67-72 GM front suspension shackle hanger with HD shackles
Regular price
$285.00 USD
Regular price
Sale price
$285.00 USD
Unit price
per
Sale
Sold out
Replace and improve those stock shackle hangers with a set of these beefy ones!
Applications 1967-1972 GM pickup and SUV. 
What is the front shackle hanger?

On a truck that uses leaf springs for the front suspension there are two points where the spring is connected to the frame, a fixed point and a pivoting point with a shackle. On these trucks the fixed point is at the front of the spring (by the bumper) and the shackle point is at the rear of the spring. The Hogback fab shackle hanger replaces that wimpy stock one with a much beefier unit!
What are the benefits of the Hogback Fab front shackle hanger?
The stock shackle hanger uses a tiny bolt and tiny bushing, it is very common for them to come apart prematurely and for the suspension to start wearing a grove through the stock bracket. This later results in the leaf spring hitting the frame. The Hogback fab front shackle hanger isn't only beefier metal wise but it uses a larger 1.5" diameter bushing using a 9/16" grade 8 bolt!! Talk about strength! 
*Same as original width, no spacers needed!!
Can this front shackle hanger be used for a 2wd to 4wd conversion?
Sure can! Just need to drill some holes for the bolts to pass through and hole saw a place for the bushing to pass. 
What is the front HD shackle kit?
On your front suspension there are two points that connect your leaf spring to the frame, a fixed point at the front and a shackle at the rear. This kit replaces the shackle end of your truck. 
What are the benefits of the front HD shackle kit?
The suspension of these trucks sees a whole lot of abuse, from off road to towing. Even street driven trucks can make the weak factory hardware break. The stock stuff just doesn't cut it, that is where our HD shackle kit comes in.
With this replacement you will have peace of mind that your truck can handle any task! The factory bolts are 7/16", with this kit we go with burly 9/16" and 1/2" grade 8 bolts! 
Strength where you need it most!
All Grade 8 hardware 

Urethane bushings

No Grease channels to weaken bolts (grease zerks are nothing more than a gimmick, they never take grease and pop off under small amounts of pressure)

3/8" Thick shackle plates that are powder coated black

Shackle pates 1/2" longer than stock to keep springs from hitting frame under flex (results in 1/4" of lift)
How easy is it to install the Hogback Fab front shackle hanger?

Very easy!
Safely lift/jack truck up and put on jack stands. Make sure to use proper safety gear and equipment
Locate front shackle hanger and remove leaf spring and shackle plates from it
Remove rivets holding the stock front shackle hanger on frame. This can be done super fast with an air chisel. Another method is using a cutoff wheel to cut an X in the rivet. Then take a hand chisel to the heads to remove them.
Once the stock hanger is removed the hole where the bushing passes through the frame will need to be opened up. This can be done with a few passes with a die grinder or dremel tool.
Bolt in front shackle hanger and

 

torque bolts to 38 FT/LBS. 
Bolt in leaf spring and shackle plates to front shackle hanger. The rest is reverse of removal.
After driving 100 miles make sure to re-torque bolts
NOTE: to make this bracket as strong as possible we build it straight at the bottom lip instead of the slight curve from factory. There may be a small gap when installed.
 NOTE: Leaf spring end bushing designed for aftermarket lift leaf springs. 
HOG TIP: Want a stronger main eye hanger or doing a 4x4 conversion? Check this out HERE
Materials

Gloss black powder coated steel.

3/8" thick steel

Product comes welded

Hardware is grade 8

Comes with frame mounting bolts, washers, and top lock nuts

7/16" bolts, nuts, and washers for frame

Poly bushing

Chromoly sleeve for 9/16" bolt

9/16 Grade 8 Bolt top 1/2" Bottom
Shipping & Returns

$15 shipping on orders valued $350 and under

Free shipping on orders $351 and up!

Returns accepted 30 days from delivery. Use the contact form to email us and get a return authorization
Share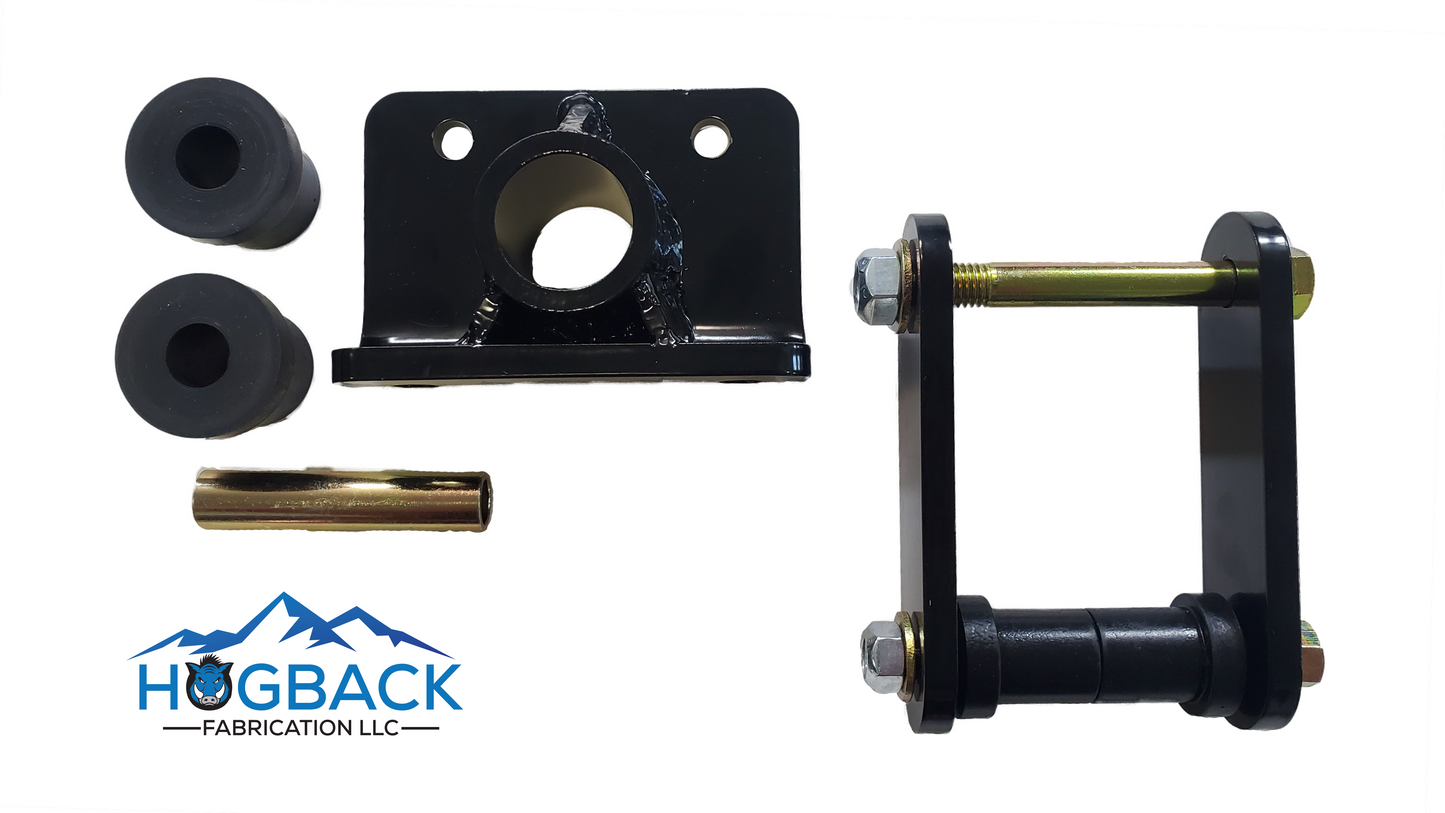 Free Shipping

USA ORDERS

$15 shipping on orders valued $350 and under

Free shipping on orders $351 and up!

Canadian Orders

Orders over $651 ship FREE!

Note: Price does not include Duties or Taxes, these will need to be paid
by the customer.

Hassle-Free Exchanges

Order the wrong part? Send us
an email on the contact form and we can help you get it all sorted out!