73-80 GM front main eye hanger
Regular price
$230.00 USD
Regular price
Sale price
$230.00 USD
Unit price
per
Sale
Sold out
Get a start on your 4x4 conversion with a set of these main eye hangers!
Application: 1973-1980 GMC Chevy 2wd (C10, C20, C30) Converting to a 4wd (K5, K10, K20, K30 Suburban, Blazer, Jimmy, V1500, V2500, V3500, M1008, M1009)
NOTE: Mounting holes will need to be drilled in frame since they are not there from factory
What is the front main eye
On the front suspension of a 4x4 truck there are two points where the leaf spring connects to the frame. The fixed point, main eye (front of the spring, closest to bumper) and the shackle point, rear eye. Our main eye bracket is great for doing 4x4 conversions. 

What are the benefits of installing Hogback Fab's front main eye?
The stock main eye brackets have been on these trucks for some 40+ years and are typically pretty beat. It is very common to find cracks and ovaling of mounting locations. That is where our main eye hanger comes in, it is a much heavier duty version of the stock unit making the 4x4 swap much easier. Our front main eye even comes with a new bracket for your body mount making it a solid strong one piece design.  
*Same as original width, no spacers needed!!
How easy is it to install the front main eye?

Very easy!
Safely lift/jack truck up and put on jack stands. Make sure to use proper safety gear and equip

Locate the front body mount hanger 

Remove rivets holding  hanger on frame. This can be done super fast with an air chisel. Another method is using a cutoff wheel to cut an X in the rivet. Then take a hand chisel to the heads to remove them.
Line up bracket on frame, mark/drill holes
Bolt in new main eye hanger torque bolts to 60 FT/LBS

Bolt leaf spring  into new main eye hanger

After driving 100 miles make sure to re-torque bolts
Note: Front bumper brackets may need to be modified, but its worth it for a much stronger hanger!
HOG TIP: Want a stronger shackle hanger for your 4x4 conversion? Check this out HERE
Materials

Gloss black powder coated steel.

.25" thick steel

Product comes welded

Hardware is grade 8

Comes with frame mounting bolts, washers, and top lock nuts

7/16" bolts, nuts, and washers
Shipping & Returns

$15 shipping on orders valued $350 and under

Free shipping on orders $351 and up!

Returns accepted 30 days from delivery. Use the contact form to email us and get a return authorization
Share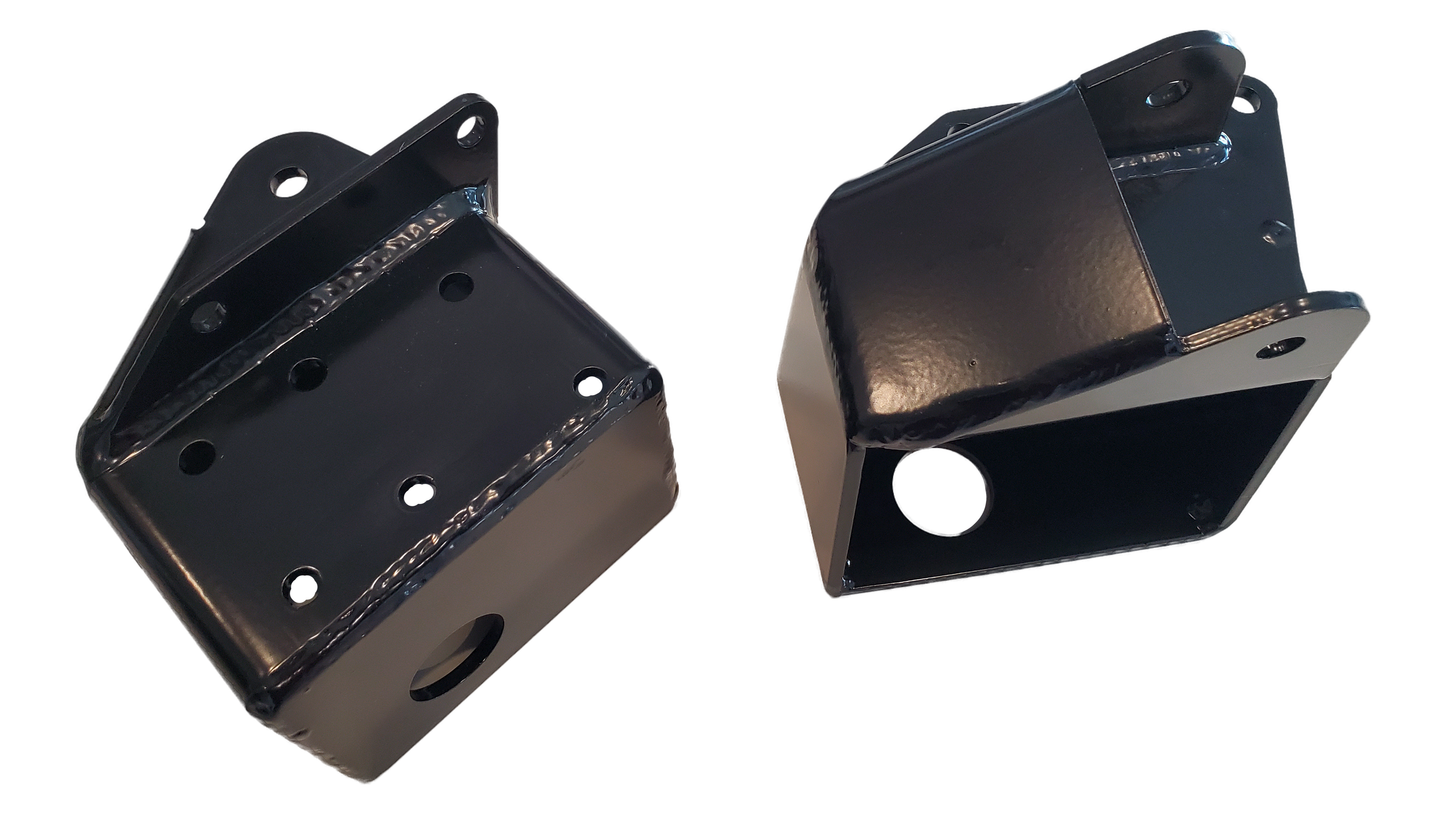 Free Shipping

USA ORDERS

$16 shipping on orders valued $350 and under

Free shipping on orders $351 and up!

Canadian Orders

Orders over $651 ship FREE!

Note: Price does not include Duties or Taxes, these will need to be paid
by the customer.

Hassle-Free Exchanges

Order the wrong part? Send us
an email on the contact form and we can help you get it all sorted out!