73-87 GM Super Duty D60 frame side radius arm brackets
Regular price
$535.00 USD
Regular price
Sale price
$535.00 USD
Unit price
per
Sale
Sold out
Move away from leaf springs and bump up to a heavy duty, readily available axle all in one fell swoop!
FREE SHIPPING ON THIS BABY!
Designed with the Squarebody: 1973-1987 (88,90,91) GM Truck and SUV in mind but can be made to work with other models with a 34" (+ or - 1")outside frame width at the belly.
What are the Super Duty D60 frame side radius arm brackets?
These are a HD bracket that can be bolted, welded (or both) to the frame of your truck and accept a radius arm for a Super Duty Dana 60. These can be used with stock Ford radius arms or any other radius arm designed to work with the Ford Super Duty (2005+) stock brackets. These are a great way to swap your front end for a beefy axle.
What makes the Super Duty D60 special? 
Beef! With 3.75" axle tubes that are .5" thick they can definitely take a beating. They are high pinion and have a huge aftermarket support to take you as far as you want. The other great thing is they are readily available in junk yards for around $500-700, cant find anything like that in the old kingpin GM, Dodge, and Ford axles. They come with radius arms that are better handling, better riding and much tighter steering compared to a leaf sprung suspension. Its a great update for your rig!
Some things to keep in mind.
The Super Duty Dana 60 is a driver drop axle, so if your transfer case is on the passenger side you will have to swap that out. The SD d60 is a 8x170mm bolt pattern so you can either swap your rear axle to match or there are hubs with various bolt patterns available in the aftermarket. 
What are the benefits of swapping to a Super Duty D60?
Aside from the obvious strength you will gain in drivability over leaf springs. Leaf springs move forward/back and side to side with the shackles and bushings causing things to feel sloppy. Radius arms provide a designated path for the suspension to travel, making everything feel way more precise. Radius arms also give some stability characteristics like a anti-sway bar, part of the reason so many auto manufacturers use them on their trucks today!
The driver's side drop differential has become a popular swap using newer drivetrains that often need the differential on that side. LS based and Cummins/Duramax/Powerstroke drivetrains often have the front driveshaft on the driver's side and this can be an easy solution to making those transfer cases work on older trucks.
How easy is it to install the Hogback Fab front shackle hanger?
Securely lift/block your truck and remove all the front end suspension and axle
The brackets can be mounted to where they go in place of the stock body mounts if you are using a stock length radius arm. The body mount bracket can be bolted over the top of the radius arm bracket (trimming may be required depending on model). We provide spacers to help line up the body mounts again.
Drill holes and bolt bracket to the frame. Alternatively the bracket can be welded if you prefer. (stock body mount holes can be used to line up)
Bolt in radius arms (these can be stock or aftermarket if you like. Mounting in position of body mount can use stock length arms, longer arms can be used by pushing the bracket back farther on the frame.
Note: These ship in (2) packages so don't be alarmed if on shows up before the other.
 Hog Tip: Need a Pan-hard bracket? We have them HERE 
 Hog Tip: Need Coil brackets? We have them HERE (coming soon)
Materials

Raw steel.

.25" thick steel

Product comes welded

Hardware is grade 8

Comes with frame mounting bolts, washers, and top lock nuts

7/16" bolts, nuts, and washers
Shipping & Returns

$16 shipping on orders valued $350 and under

Free shipping on orders $351 and up!

Returns accepted 30 days from delivery. Use the contact form to email us and get a return authorization
Share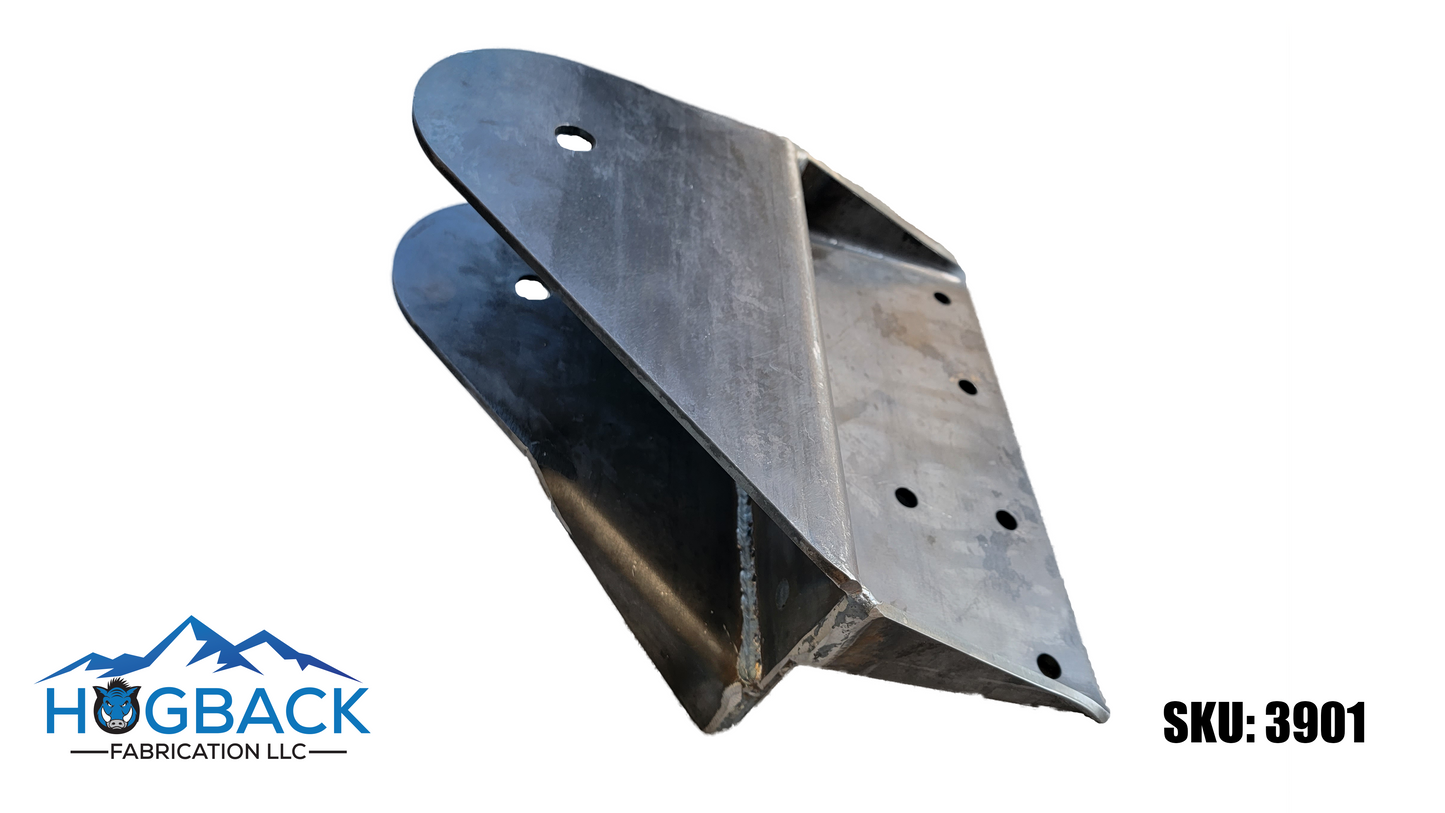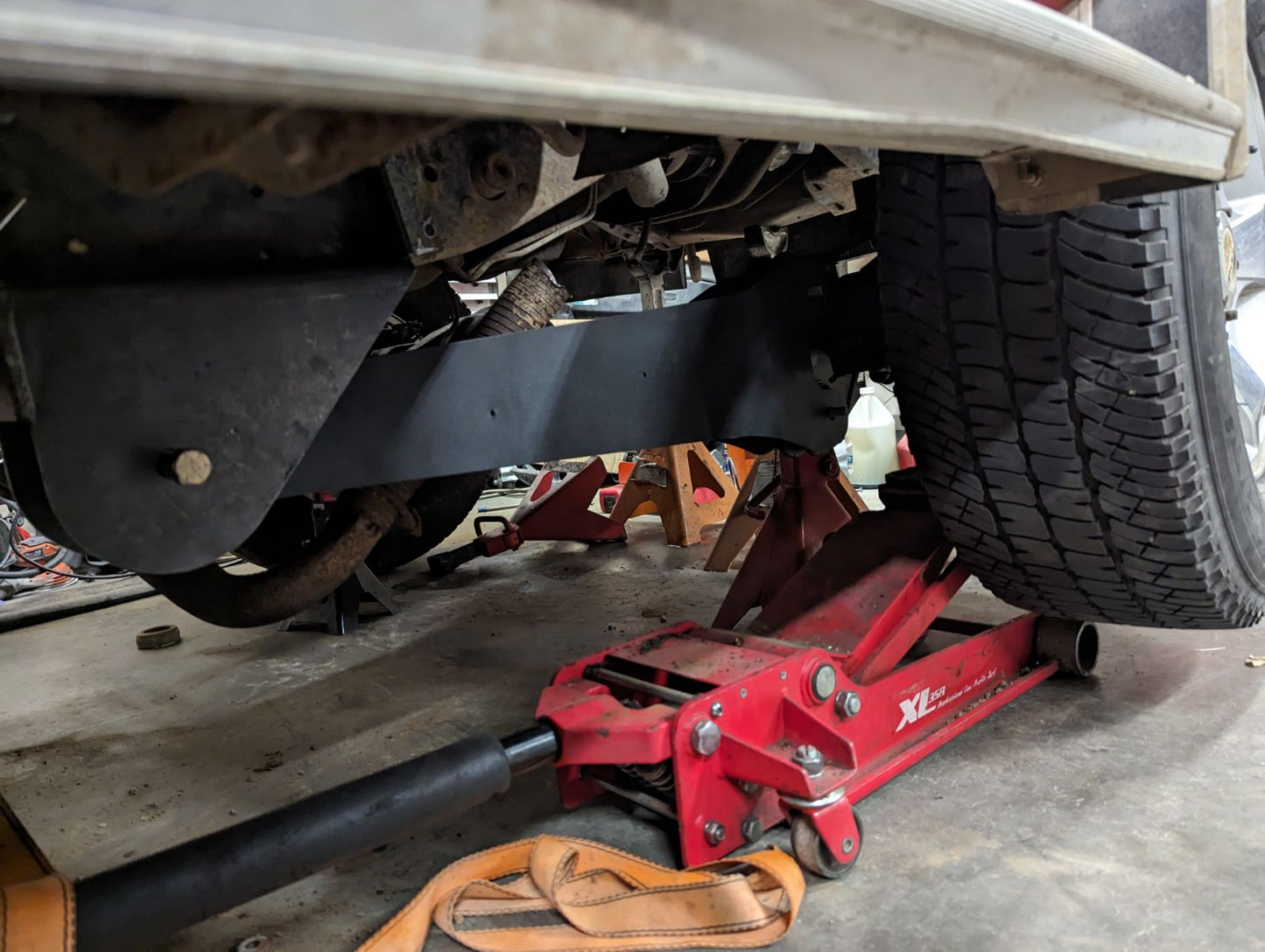 Free Shipping

USA ORDERS

$16 shipping on orders valued $350 and under

Free shipping on orders $351 and up!

Canadian Orders

Orders over $651 ship FREE!

Note: Price does not include Duties or Taxes, these will need to be paid
by the customer.

Hassle-Free Exchanges

Order the wrong part? Send us
an email on the contact form and we can help you get it all sorted out!