LS Swap Motor Mount Kit
Regular price
$210.00 USD
Regular price
Sale price
$210.00 USD
Unit price
per
Sale
Sold out
Applications: Gen III and Gen IV LS motors ( LQ9, LMG, LC9, LQ4, LS1, LS2, LS3, LS7, LS9, LR4, LM7, L59, LM4, L33 LQ4, L76, LY6, LY2, L20, LH6, LY5, LMG, LC9, LH8, L92, L99, LSA) Probably a few we are missing since there are 40+ variants but you get the gist of it. 
Applications: 1967-1972 C10 C20 2wd blazer 1973-1987 (1988, 1989, 1990, 1991) GM Truck/SUV 4x4 and 2wd (K10, K20, K30, K5, V1500, V2500, V3500, C10, C20, C30, M1008, M100
THIS KIT INCLUDES THE ENGINE SIDE AND FRAME SIDE MOUNTS
What are the Gen 3 and Gen 4 LS motor mount adapters?
The LS platform uses a different motor mount bolt pattern than the earlier small block or big block GM motors, because of this an adapter is needed for these engine swaps. Our adapters are designed to work with our frame side motor mounts but they are pretty universal if you are doing something custom. One piece design to make everything super strong!
Why use the Hogback Fab HD Motor Mounts?
So you just got done rebuilding your motor with all the power adders and are ready to put back in your truck and burn some rubber. Are you putting your motor on the stock mounts? Heck no! You need something that can stand up to the abuse. That is where our HD motor mounts come in. The are engineered to take on the highest HP race motors out there!
Comes Powder coated Gloss black with Grade 8 hardware (even the bolts to mount to the block and frame).
How easy is it to install the HD motor mounts?
Very Easy!
If your motor is still in the truck, you will need to unhook the stock motor mounts and lift the motor high enough to remove/replace the mounts. The motor will need to safely be lifted with an engine hoist. Make sure nothing will get stretched/broken like wires, fuel lines, etc.
Remove the stock motor mounts from the block and frame.
Loosely bolt on the block side HD mount to the block and the frame side to the frame. We say loosely so you can adjust the mounts around when lowering the engine.
Lower the motor on to the new frame side mount. Note: as we all know these frames are noodle and move around a lot. It may take some moving around of the mounts up, down, forward, rearward for the main bolt to pass through.
Slide the 9/16" main bolt through the two motor mount halves and tighten down.
Tighten the frame and block side mounts
Reconnect anything you may have unhooked when lifting the motor.
Enjoy your new found strong mounts!
After 100 miles make sure to go check all bolts are tight. 
Note:  For LS motor swaps in 67-87 GM truck/suv the stock location of the A/C compressor can not be retained, there are many companies in the aftermarket offering up high A/C mounts. For trucks that are 4x4 crossmember it will clear if you are using a 4x4 pan on the motor. Some very rare occurrences based on frame tolerances (and super old frame rivets shifting) a notch of the crossmember or spacing up the mount a little may be needed.  On 2wd trucks the stock crossmember will be fine. 
Materials

Gloss black powder coated steel.

Product comes welded

Hardware is grade 8

Bolts and Lock washers for motor side and for frame side

Bushings are Polyurethane

Sleeves are Chromoly
Shipping & Returns

$16 shipping on orders valued $350 and under

Free shipping on orders $351 and up!

Returns accepted 30 days from delivery. Use the contact form to email us and get a return authorization
Share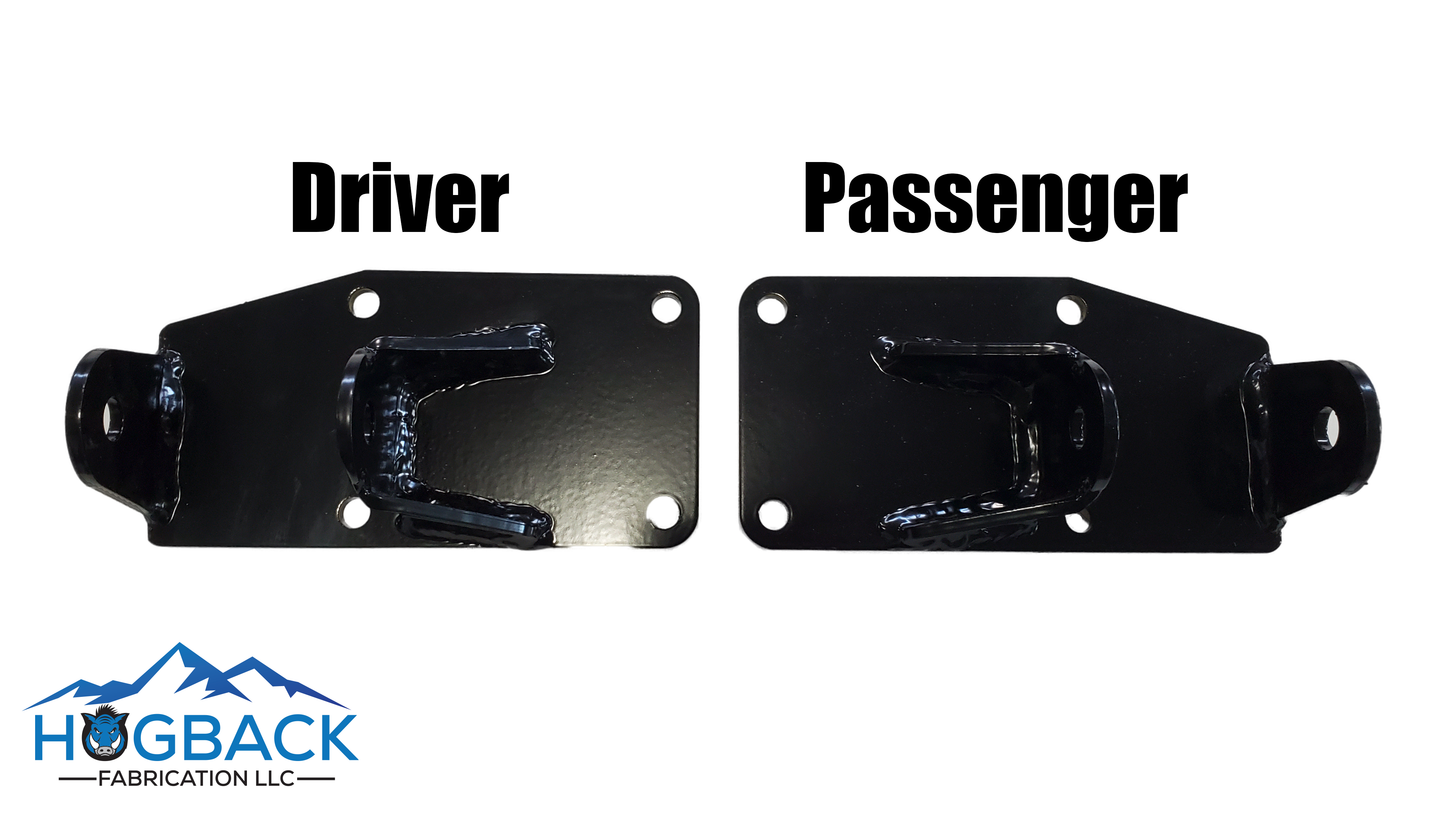 Free Shipping

USA ORDERS

$15 shipping on orders valued $350 and under

Free shipping on orders $351 and up!

Canadian Orders

Orders over $651 ship FREE!

Note: Price does not include Duties or Taxes, these will need to be paid
by the customer.

Hassle-Free Exchanges

Order the wrong part? Send us
an email on the contact form and we can help you get it all sorted out!